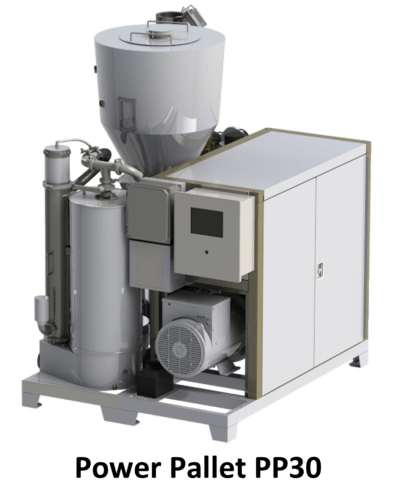 Jim Mason is a Burning Man and San Francisco Bay area artist. Asking that question led Mason down a path that led to
All Power Labs (APL)
, a $5M a year energy start up sustained entirely by sales.
APL creates biomass gasifiers that produce heat, electricity and biochar from organic debris, creating negative carbon balance in the equation. The company actually aims to reverse the planetary damage done by burning fossil fuels over the past 150 years, moving atmospheric carbon into the soil in a stable form that enhances soil productivity over millennia. The technology is small scale for distributed production at the source of the feedstock, rather than requiring trucking of material to a large megawatt generator, as is our current cultural model...which is only better because some company can make billions that way.
Though APL's aims seem grandiose to the point of delusion, the artists are onto what may be the only solution out there, and the company is growing rapidly both domestically and world-wide.
APL's gasifiers are small, arriving on a pallet, and relatively affordable (if you have $50K and a handy source of biomass to feed it). But now, anyone can get in on the action, and improve their garden (or someone else's) at the same time:
the company has borrowed the Community Supported Agriculture model and is offering biochar subscriptions
through their new Local Carbon Network. You (or your designees) get periodic bags of this special charcoal shipped to your home (or farm), where you mix it with compost and till it into your soil. Your effort improves the soil productivity, reduces water needs, and banks carbon. It's worth the $25 Indie-Go-Go subscription just to support these visionaries!
Read article
.
APL is not the only visionary, artist-led, Burning Man-inspired energy initiative underway.
"Black Rock Solar began its sun-capturing mission at Burning Man 2007, installing a 30-kilowatt solar power array on the playa in keeping with that year's Green Man theme. After the event, the team donated and moved the installation to Gerlach's Ernest Johnson Elementary School. The original array was later expanded to 90 kilowatts, providing the school with a third of its power and saving more than $15,000 per year, money that goes toward enrichment programs for the kids.
Black Rock Solar's financial model was innovative: use donations and grants to fund solar installations, receive significant solar rebates from Nevada's electric utility, and use that money to fund more installations. Today, through Black Rock Solar's efforts, more than 100 schools, non-profits and tribal community buildings, including the Pyramid Lake Paiute Tribes schools and facilities along the Route 447 stretch between Fernley and Gerlach are now powered by the sun's rays."
In 9 years, BRS installed 7.6 megawatts worth of solar systems to generate clean, cheap power in Washoe County, Nevada, and points beyond. So much power, in fact, that the State of Nevada proclaimed Hwy 447 as
America's Solar Highway
, with more watts of distributed solar per mile than anywhere in the USA (451kW along 75 miles of highway, 17 watts per mile).
With the drop in solar hardware costs and the end of Nevada's incentive programs, Black Rock Solar's financing model was no longer effective; the company recently transitioned into
Black Rock Labs
, an accelerator for "best-in-class clean-tech innovations particularly suited to the Burning Man culture and in alignment with Burning Man principles. It will select projects that may start by bettering life in Black Rock City, but which can be scaled to serve the whole world."
One of their first efforts is the
hexayurt
: a simplified disaster relief shelter designed by artists and tested thoroughly on the harsh playa at Burning Man. The structures are simple, cheap, portable, and robust for use in disaster areas and other temporary communities.
More info.