Seeing Science
2017
Online
"Photography has long been a medium for communicating science to the public and for scientific investigation. Images shape our understanding of research and technology, as well as our place in the universe.

Seeing Science is a yearlong online project from the University of Maryland, Baltimore County (UMBC), with the Center for Art, Design & Visual Culture (CADVC). Curated and produced by Marvin Heiferman, it's a portal for the diverse roles and influences of the scientific image. 'Part of what interested me is, I started out doing lots of art and museum exhibitions, but what fascinated me about science imaging in particular is its consequentiality,' Heiferman told Hyperallergic. 'The active nature of images, the active role that images play in shaping culture, is what I think science images are doing more and more.'"
------------------------------------------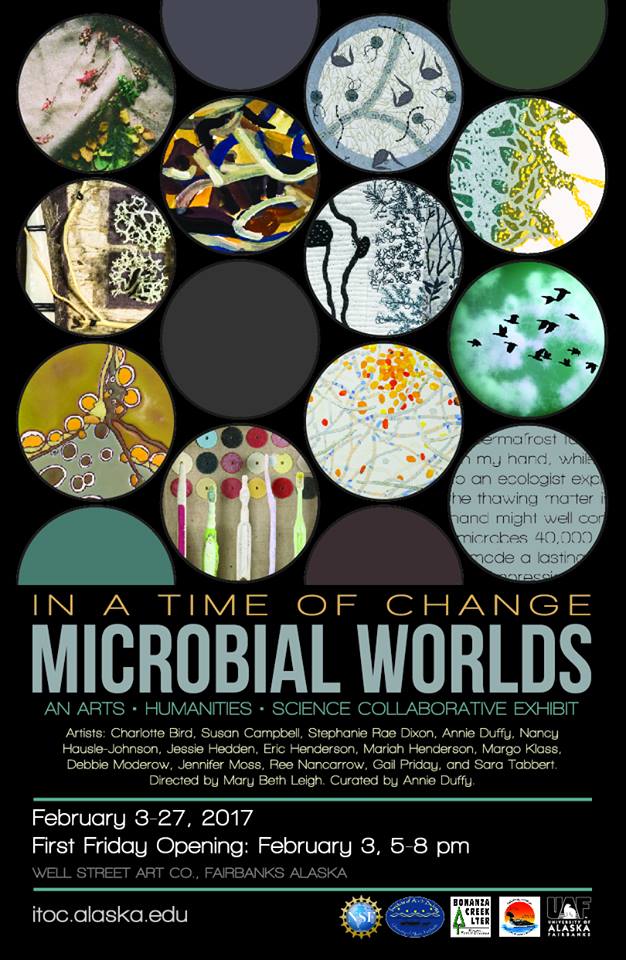 In A Time of Change: Microbial Worlds
February 3-27, 2017
Fairbanks, AK
"Microbial Worlds is the culmination of 16 months of collaborative work by visual artists, writers, and scientists on the topic of microorganisms. Microbes are the most numerous and diverse organisms on the planet; they include bacteria, fungi, protozoa, algae and viruses. While some cause disease and contribute to climate change, others are responsible for promoting human health, removing toxins from the environment, and maintaining healthy ecosystems.

Under the leadership of Leigh, artists met monthly for 16 months. With Leigh and other scientists, they learned about microbiology through lectures, laboratory activities, and field trips to Toolik Field Station, Bonanza Creek Experimental Forest, and the UAF trails to learn about mushrooms and to view microbes frozen in ice on Smith Lake. Artists were also loaned microscopes in support of their independent research. The artists interacted with over 30 scientists through the course of the program, ranging from infectious disease microbiologists to ecosystem ecologists."